Open daily from 10am until late
Our Café serves premium Award Winning Coffee using only the finest quality beans, aromatic teas and delicious Patisserie Cakes, Slices and Biscuits.
Come down and enjoy our Coffee & Cake members special from just $7 coffee and cake on Wednesday's 10am to 12pm. It's the best way to spend a few relaxing hours during the day catching up with friends.
Café Menu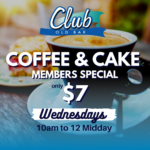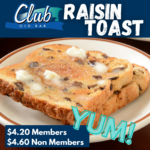 Snacks – available all day 
See display for today's selection

Cafe Sweets
Daily selection of homemade treats, cookies, slices, cakes. See our display for today's selection.
Café Drinks
Coffee
Tea
Cold Drinks
Cappuccino mug
Flat white mug
Latte
Long black
Mocha
Macchiato
Chai latte
Hot chocolate
Affogato
Vienna
Decaf
add: Caramel
Vanilla or Hazelnut syrup
Black Tea
English Breakfast
Green Tea
Earl Grey
Peppermint
Chamomile

Iced Coffee
Iced Chocolate

Milkshakes:
Chocolate
Strawberry
Caramel
Vanilla
Banana
Coffee malt