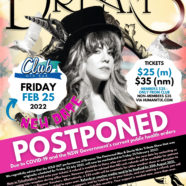 POSTPONED

DREAMS SHOW POSTPONED to Friday 25th February 2022.
Due to COVID-19 and the NSW Government's current public health orders, we regretfully advise that the SOLD OUT performance of Dreams: The Fleetwood Mac & Stevie Nicks Tribute Show that was originally scheduled for Friday 23 July 2021, will now be rescheduled to Friday 25 February 2022.
Note to Ticketholders:
No action needs to be taken on your part as all tickets will be valid for the new date. If however, you cannot make 25th February 2022 you can access a refund by contacting reception during office hours. However please be advised that NO cash refunds will be available for patrons that redeemed their Discover vouchers as payment for this show. Alternatively, a $25 credit will be available for either another show or admission to our new mini golf course scheduled to open soon.
Refunds or voucher credits need to be finalised by 20th August 2021.
The music industry is hanging on only with your support, and by holding on to your tickets, and not seeking a refund, you will be contributing to the future and resurgence of live music in this country. Your support is needed now, more than ever. Of course, if you cannot attend a rescheduled show, by all means, please seek a refund by contacting us or dropping into reception during office hours by 20th August 2021.

Dreams heads to Club Old Bar on the fabulous NSW Coast for the first time Friday Feb 25, 2022 for a massive 2 hours PLUS ++ show!
(Rescheduled from May 8, Oct 23 & July 23 due to COVID-19)
ALL TICKETS PURCHASED WILL BE TRANSFERRED TO & VALID for new date.
If for any reason you are unable to attend the date as rescheduled a full refund will be available. Please contact the Club reception about this or with any other questions CALL (02) 6552 2094
TICKETS ON SALE (Capacity is 300)
Non-Members – $35
Members – $25 from the Club
Tickets transferred from original date please contact venue (02) 6552 2094
For more on DREAMS visit www.dreamsshow.com.au